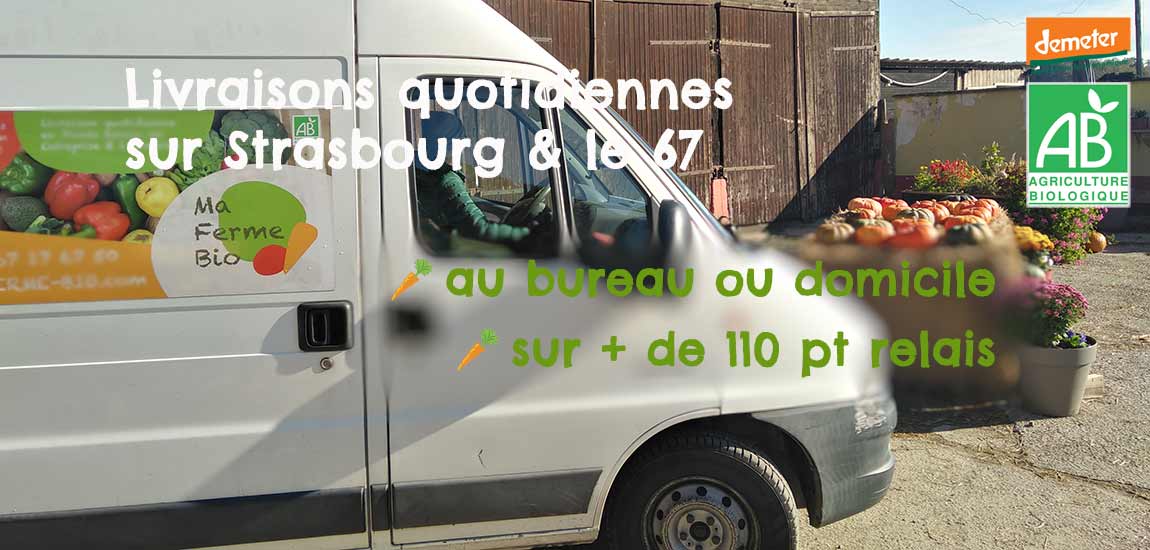 Shop for healthy food in a few clics and enjoy the convenience of weekly delivery at your doorstep
We provide fast and reliable home /office delivery service accross a large part of the Lower-Rhine county in Alsace. Our perimeter includes for instance Strasbourg and its conglomeration, Haguenau, Obernai, Molsheim, Barr, Sélestat, Erstein, Saverne, Marlenheim, Hochfelden, Villé, Wissembourg, Lauterbourg, Niederbronn-les-bains, as well as multiple villages on our way. Detail listing of zip codes is given here below. 
Door-step delivery service is charge differently whether you live in Strasbourg or its direct surroundings, a midtown or a remote village.

On which days does Ma Ferme Bio deliver ?
We generally ensure our home delivery services on Fridays (from 7:30am til 10pm) as well as on Saturdays (between 3:30pm and 10pm). Multiple delivery options as well as an interactive calendar will be displayed to you during the order checkout process. Please note that in case of exceptional circumstances (late delivery of our suppliers, heavy trafic), we may have to postpone your delivery by 12 or 24 hours. In such case, we also inform timely our customers
      For now, Tuesdays deliveries are only available for companies, kindergardens and professional clients.
When do I need to order on Ma-Ferme-bio.com for a same week delivery ?

Ideally at the latest before Wednesday 12am (noon) for a delivery on following Friday (D+2) or Saturday (D+3). But in case you were just late or forgot about the deadline, you might always give us a short phone call we will do our best to serve you for that same week :)

Can I choose a time slot for the delivery ?
Unfortunately not at this point. We are a small company with only one van with a large tour to ride. However we will always contact you 24 hours in advance (for your 1st orders) in order to synchronize our time arrival at your best convenience. Alternatively, you can simply ask us to deliver you at your office.
What happens in case I cannot be home on the defined day of delivery ?
If you live in a house, we can always drop your box (with your consent) behind a little wall or in your garden, hidden from street pedestrians. Otherwise, we will try either to entrust it to your neighbour or drop it at our closest partner pickup store nearby.
How much costs home delivery ? Is there a minimum order ?
It all depends where you live in the Bas-Rhin (Lowest-Rhine county) and on the size of your commune of residence. At Ma Ferme Bio, we charge our Home & Office delivery services as follow:
      - €2 only in Strasbourg city (zip codes 67000+67100+67200), €15 minimum order, free already from €25 !
      - €2,9 in the Strasbourg suburban area up to 15km around  (zip codes 67114, 67640, 67118, 67400, 67540, 67380, 67201, 67202, 67205, 67206, 67207, 67300, 67800, 67460, 67450, 67610, 67550), €15 minimum order, free already from €30 !

      - €3,9 in Molsheim, Obernai, Rosheim, Brumath, Erstein and the surrounding municipalities, €25 minimum order, free already from €40 !
      - €3,9 in Haguenau and its surrounding communes (zip codes 67500, 67590, 67230), €15 minimum order, free already from €30 !
      - €4,9 for other small communes located beyond 25km of Strasbourg or more excentered (€25 minimum order, generally free already from €40 !)
      - €5,9 in further communes and remote villages far from main road network.
During the checkout process of your order, our system will automatically calculate which fare to apply based on your chosen delivery address (and zip code).
Where exactly can Ma Ferme Bio deliver my fresh organic food shopping ?
As of November 1st 2021, we deliver every Tuesday, Friday and Saturday everywhere in Strasbourg city and its direct suburb, mid sized towns and small villages in Alsace with the following zip codes: 67000  67100 67110  67112  67113  67114  67115  67116  67117  67118  67120  67140  67150  67160  67170  67200  67201  67202  67203  67204  67205  67206  67207  67210  67220  67230  67240  67250  67270  67300  67310  67350  67360  67370  67380  67390  67400  67410  67440  67450  67460  67470  67480  67490  67500  67520  67530  67540  67550  67560  67580  67590  67600  67610  67620  67630  67640  67650  67660  67670  67680  67690  67700  67710  67720  67730  67750  67760  67770  67790  67800  67810  67820  67840  67850  67860  67870  67880  67920  67930  67960  67980  67990
      For now, Tuesdays deliveries are only available for administrations, businesses, kindergardens and school clients.
Do we accept deliveries outside of our current geographic spectrum ?
Yes we do occasionnally. We analyse each request on a case-by-case basis. Please do not hesitate to submit your question via our online form by mentioning your name, city/commune of residence and its zipcode.
Need help on your 1st order or further information ?
Give us a call on +333 67 17 67 50 or write an email to commercial@ma-ferme-bio.com. Our friendly team mate Adam will be happy to assist you. We are literaly open Monday to Sunday, from 8am til 8pm. Prefer using Facebook Messenger ?